Our Story
The Knot Artistry began as a passion project for delivering luxury en suite beauty services. 
With her background in film and television, owner and founder Emily, curated a team of beauty experts with a shared passion for the bridal and event industry, our clients and ethical beauty.  
From East to West, we are your beauty styling experts.
What We do.
From Beach Weddings to the Mountains to the Chapel, our team provides Hair and Makeup services for all types of weddings and events, and all types of clients all over Vancouver Island, the Gulf Islands, Vancouver and Whistler.
From intimate elopements to large parties, our beauty experts cater to individual client needs.
Contact us directly to book your wedding, event or commercial project.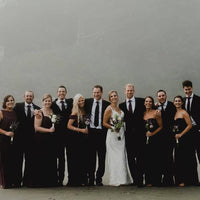 Testimonials
We just wanted to thank you all for an amazing addition to the day. We all felt (and looked) so beautiful. Thank you, thank you!

Sara L
Working with the team was marvelous, fun and simply delightful. My artist augmented my vision with her own ideas and accentuated all of my greatest features. If you're looking for someone who has the breadth of knowledge and expertise for a wide variety of looks, as well as someone wonderful to work with- book this team.

Emily A.
Never have I EVER felt so beautiful. If I could hire The Knot Artistry to do this everyday, I would. I felt like a movie star.

Shannon F.